BRF's Industrial Chemicals Division specializes in providing a wide range of services related to industrial chemicals. With a focus on research, analysis, and testing, BRF offers an array of solutions tailored to meet the needs of clients in various industries.
The division offers expertise in regulatory compliance, ensuring that industrial chemicals meet the necessary safety and environmental standards. BRF conducts comprehensive toxicological studies to evaluate the potential risks associated with chemical substances. This includes acute and chronic toxicity testing, reproductive and developmental toxicity studies, mutagenicity assays, and environmental fate assessments.
In addition, BRF's Industrial Chemicals Division provides formulation development and optimization services, helping clients enhance the efficacy and stability of their chemical products. The division also conducts studies to assess the physicochemical properties of chemicals, including solubility, partition coefficient, and degradation kinetics.
BRF's state-of-the-art laboratory facilities, equipped with advanced analytical instruments, enable the division to perform a wide range of analyses such as gas chromatography, liquid chromatography, mass spectrometry, and elemental analysis. The company's dedicated team of scientists and technicians ensure accurate and reliable results.
As part of its commitment to quality and regulatory compliance, BRF's Industrial Chemicals Division adheres to good laboratory practices (GLP) and is well-versed in international guidelines and standards. The division caters to clients across industries such as pharmaceuticals, agrochemicals, cosmetics, household products, and industrial manufacturing.
Whether clients require chemical characterization, safety assessments, environmental impact studies, or other related services, BRF's Industrial Chemicals Division offers comprehensive solutions to support their needs. With its commitment to excellence, scientific expertise, and cutting-edge facilities, BRF is a trusted partner for clients seeking reliable and efficient services in the field of industrial chemicals.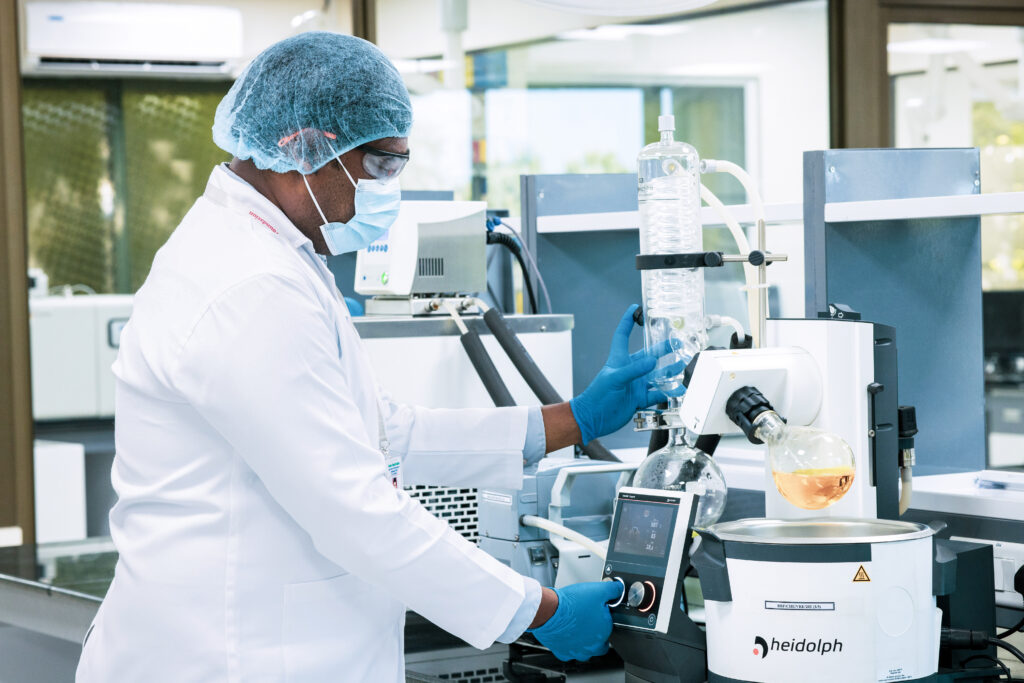 Quick overview of services we can provide
Acute toxicity Skin and eye irritation/Serious Damage
Skin sensitization
Inhalation toxicity 
Subacute and Subchronic toxicity
Chronic Toxicity 
Neurotoxicity 
Immunotoxicity 
Developmental and reproductive toxicity
Endocrine disruptor screening
Carcinogenicity
 
Chemical characterization and identification
Physicochemical property determination
Stability/Shelf Life 
Packaging/Container compatibility/Transport worthiness
EnvironmentalFate studies
adsorption and desorption
Mobility
Biodegradation
Bioaccumulation potential 
Environmental monitoring and analytical services
Bacterial Reverse mutation – Ames test
Chromosomal aberration test
Micronucleus test
HPRT Mammalian Cell gene mutation test
Skin and Mucous Membrane Testing
Dermal absorption studies
Skin penetration studies
Skin irritation testing
Skin corrosion testing
Skin sensitization testing
Mucous membrane irritation testing
Soil and water analysis for chemical contaminants
Air quality monitoring
Environmental risk assessment
Environmental fate and behavior studies
Occupational Health and Safety
Occupational exposure assessment and monitoring
Hazard identification and risk assessment